School Interpreting
Certificate of Completion Awarded For This Seminar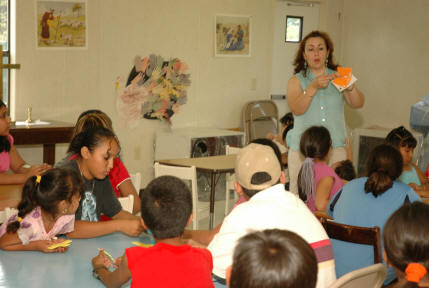 This seminar is available to groups only. Contact Us for details and pricing.
There's more to interpreting in our schools than simply being bilingual - much more!
This two day seminar is a hands-on, interactive workshop for bilingual (English / Spanish) people who are called upon to interpret in school settings.
Co-developed by your instructor, Yasmin Wurts Metivier of Panoltia, and Eta Trabing of the Berkana Language Center, this workshop is based on more than 50 years of professional interpreter and interpreter training experience. It is the standard for interpreter training for educators.
Workshop Overview
To be effective, the interpreter must not only be able to speak two languages, he or she must also be able to communicate across the wide variety of linguistic variations that they will be faced with in education situations.
So, what happens when the interpreter is not familiar with the culture of the recent immigrant from rural Mexico or Central America? Or what if the interpreter is an immigrant and not thoroughly familiar with American culture? In spite of everyone's best intentions and efforts, even simple culture issues are not fully understood and critical communication is compromised.
Besides being able to speak two languages and work across cultures, in order to be effective the interpreter must also have a variety of other skills and must be familiar with the terminology required for a wide variety of situations.
They also have to be proficient in listening techniques, consecutive and simultaneous interpretation techniques, sight translation techniques, delivery techniques for each of these modes of interpretation, and note-taking; and, it's critical that they thoroughly understand the ethics involved in all interpretation situations.
They also need to know the terminology specific to education. Without this terminology they are simply not equipped to do the job.
Workshop Topics Include:
The Role of the Interpreter

Consecutive Interpreting and Simultaneous Interpreting

Basic Interpretation Skills and Techniques

Note Taking Techniques

Memory Techniques

How to Handle Difficult Interpreting Situations

How to Prepare for the Bilingual Interview

Interpreter's Code of Ethics

The New Recent Immigrant Belief System and the Cultural Differences that Affect Students' Success

Latinos / Hispanics in the American School System

Incorporating Cultural Differences to Improve Communication

Role Plays Taken from Real Life Education Situations Such as IEP Meetings, Permission to Test, Parent/Teacher Conferences, and Others

Terminology Used in Education Settings

And Much More
Instructor:
Yasmin Wurts Metivier
Click here to learn more about Yasmin's background and qualifications.
Participant Prerequisites:
Participants must be bilingual.
Each participant will receive a copy of "Manual For Interpreters In School Settings" published by Berkana Language Center and Panoltia, Inc. and a "Glossary of Terms for School Settings."
---
REGISTRATION:
This training is available to groups only and is not offered to the public for individual registration. If you are interested in bringing this program to your group anywhere in the United States please contact us for details and pricing.
---